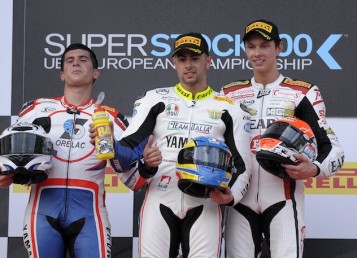 SATURDAY, MARCH 31st
In the European Stock600 championship, Riccardo Russo captured the spotlight with a spectacular race after starting from pole position (1'54"374).
It was a 'hole shot' from the get-go for the Aversa rider, who quickly found a rhythm that no opponent could match. After reaching the halfway point, Ricky kept things in check, winning the first European race of his career with a 2"5 lead on the Spanish Calero Perez. The fellow Team Italia rider Vitali put up a generous, yet unlucky, performance, battling for third place with Van der Mark. At the last turn, Luca tried to pass the Dutch rider, but crashed without consequences.
SUNDAY, APRIL 1st
Team Italia on the podium in Stock1000 with La Marra
After yesterday's victory by Riccardo Russo in the European Stock600 championship, Team Italia FMI wraps up the week-end with a solid third place by La Marra in the first race of the FIM Cup Stk1000 championship.
The race was split in two because of a red flag.