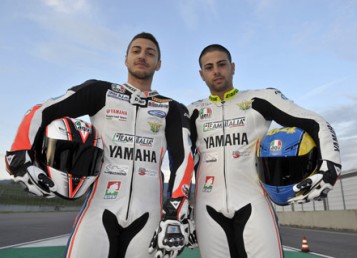 It 'was the Team Italia FMI the star of the first race of the year reserved for Stock 600.At the ready way, Richard Russo has passed quickly and Sabatino has pushed hard to get a few yards ahead on your opponents and to manage the race until the end. Goal accomplished in full for the young talent Campania, so that repeating the success of the first race of 2011 (won at Misano) and with an arrival in solitary becomes the first rider to beat in this part of the season. "I did not start up fine but when I managed to overcome Sabatino kept a good pace – said Riccardo – in the end the bike was sliding a lot but I hit a great result, thanks to the work of the team."Behind him, teammate Luca Vitali, who after a bad start and a stunning comeback failed to reach second place without even embarrass the leadership because of the deterioration of the gums. "In the end I paid for the effort to recover and the tires did not allow me to recover the second half of detachment from Richard – said Luca – I'm happy because it's a great result for the team." In third place, a wonderful surprise of the weekend, Yuri Menchetti (Yamaha): the Mugello Barberino took full advantage of the factor "field" to the first podium finish with CIV a weekend that saw him always the protagonist. "The first laps were really hard and I think I could have done better but I'm really pleased with this result centered on his home circuit. Okay so … "
Finished in the top five are two newcomers who have already proven to be at ease in the new category. The first is the Genovese Luca Oppedisano: Cup winners Italy 4t 2011, the 21 year old lieutenant Puccetti Kawasaki ran an intelligent race, a strong comeback from 15th position behind the podium and closing with a performance to remember. Top results for Dakota Mamola (Yamaha – Yakhnich MS), youngest son of the great Randy to debut on the demanding circuit in Tuscany and in stock 600 has been shown to have the handle of her father centered with a fifth place finish after a great recovery.
Among the top ten players until the final rounds of the fight for the top five also Franco Morbidelli, Kevin Caloroso, Luca Salvatori, Alessandro Nocco (another absolute novice to the day) and Gennaro Sabatino, in the lead in the first few corners. To note the performance of Francesco Cocco, who fought for the podium until two laps from the end and then slipped into 13th place under the checkered flag.