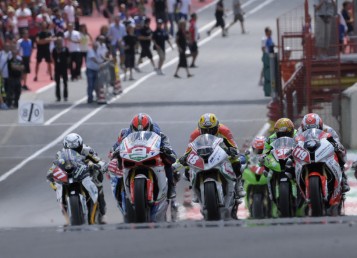 It is started the countdown to the start of the season of the CIV. The 2012 championship will have its rich preview at the International Autodromo Enzo e Dino Ferrari in Imola, the weekend March 16 to 18, on the occasion of the official tests that anticipate the opening of the season, 25 March at Mugello.
The numbers say that the first act of the season will be "busy" on track, with over 300 riders will return in Imola after several years of absence. In fact the last appearance of the Italian Championship in Imola, dates back to the 2006 season.
The day of Friday will be reserved for the CIV and the Yamaha R6 Cup, Saturday and Sunday test (rounds of 25 'at a cost of € 50 + VAT) for all the FMI speed licensees valid for 2012. For info on booking: valentina.fantini@civ.tv, mob +39 334 660 278.
Meanwhile, growing numbers for the riders of the CIV 2012: the stock 600 is confirmed the most popular class with, today, 40 permanent riders.