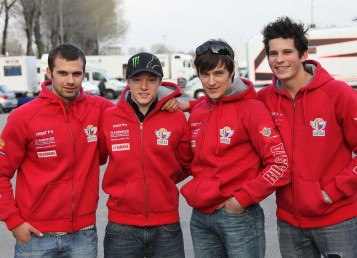 During the Imola CIV Test, held from 16.th to 18.th march, Dakota Mamola made his official entering in the Yakhnich Team.
Dakota will race the whole 2012 season in the best russian team, riding the Stock 600 Yamaha R6 in the italian championship. The 17.th year old son of the famous Randy, demonstrated during a couple of winter trainings his hig level of possibility and his friendship with all components of the team, so it was easy to introduce him in this team prearing for him a good program to allow him to learn the riding of four stroke 600 bike. Up to know, infact, his short career was all did riding 125 two stroke bikes. Without any experience, in any case, Dakota demostrated his high potential even during the Imola test.
Day by day Dakota improved his performances after learnings the secrets of this circuit, even following the suggestion of his fampus father, Randy Mamola, that is working as "great teacher" for all team riders. Just in this circuit Randy begame his wonderful career in Europe, in 1977, when he was 17 year old, and now is he is here with is 17 years old son to allow him to start a hopefully similar career. Dakota started on friday lapping in 2'00", and arrived on sunday being stable on the 1'56"5 rithm…
First official race, will be the 1.st round of CIV in Mugello, next 25.th of march.